Trainee Grease Monkey
Join Date: May 2013
Posts: 29
Dynojet LCD-200 for PCV on 2006 R6
---
So after rearch, I learned its no problem to run an 08+ PcV on an 06' R6. Now my questions are, my custom tuner says the QEM 15 for the 08+ quick shift and the pull sensor for the Pcv will work fine, I believe if pcIII maps are used. My tuner will be napping my bike 1000 temp to redline on a 2006 R6 using a Pcv with the QEM 15 for shifting. Since these parts really are compatible from what a lot say. Can I also use the LCD-200 with this setup? I like the cheap, decently built, color display with the Pcv. I know it will plug in and wire up, but will it read, and read properly the informations I need? I hope it will work, which I think it would.
Any nice solid mounting points for it, on my cbr600rr I have the fork clamp mount for it, but its a bit loose unless I put a strip of electric tape on the fork. How about With the R6, I want to know if it will work as planned, and what are some nice clean mounting spots. Here is my CBR600RR almost done:
Map switch to bottom left of display: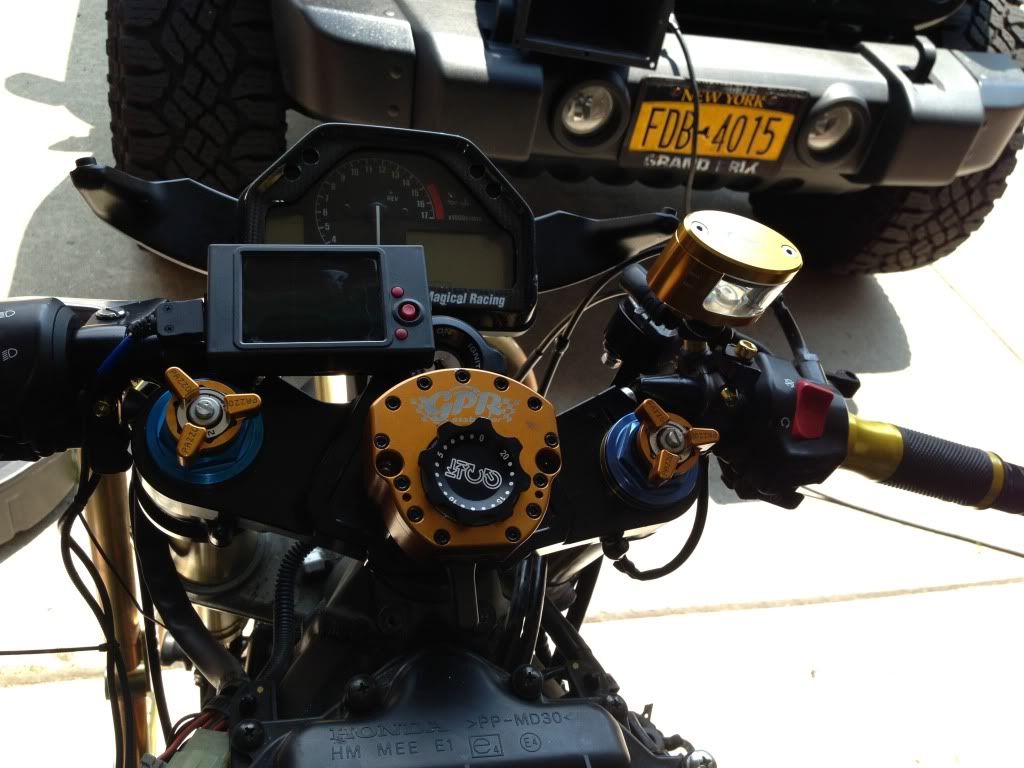 Here us a whole shot of the area. Or! As an alternative, I can hook up my MoTeC CDL3 track kit, since the bike will eventually give me all readings through the MoTeC ecu. For now, we can use what's available. Yes I'll be putting a MoTeC n600 or m800 on either the cbr or yamaha and doing a compact turbo road racing setup. I have a feeling the r6 might be overpowered, even with Morris state of the are traction control system my MoTeC tuner debt me a full optioned CDK3 track kid for the turbo bike project. It will be a baby GTX2867R, non intercooled, and running under one bar of boost and boost by gear for track ability. Here's the turbo:
GtX2860R .64 tial stainless exhaust housing. Small tial MBA waste gate custom anodized gold to match the black/gold cbr theme, and a half anodized gold, half silver tial Q bov, because you can't anodize the top. My friend will be making the manifold, the motor will get Carrillo rods, custom cp pistons, some head stuff like springs and retainers if available, web cams aggressive, compression ratio will be dropped to 11:1 but probable running ethanol e98. Looking for a quick spool, max of 210 rwhp in the higher gears for straights. 175 area otherwise. My tuner is my MoTeC tuner around the world. As prolific as the come. Shane Tecklenburg, formerly head MoTeC tech specialist from around 22-26, where he left and started his own firm tuning only noted race vehicles. Bikes, cars, boats, etc.. He has set numerous world records, and I am humbled to have him come about my team, and ever more, become a good friend. He tuned my single turbo Audi 2.8 l 24v motor with standard bolt on parts to ha hair under ~1000 whp in two hours (worlds most powerful 2.8 tall block vr6 with standard bolt ins abs a great turbo manifold from FFE-Racing on Long Island. . This mathematical genius, is a must for a successful works setting race vehicles. Price comes with the territory though.
Turbo: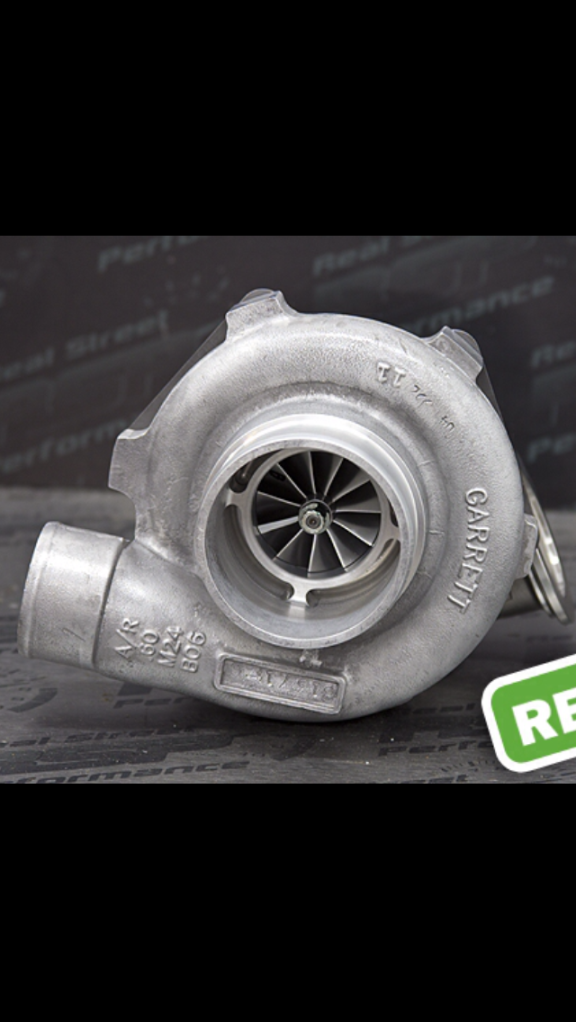 Baby gtx2860r
Here is it next to my GTX4508r for the drag car:
Lol
Anyway my main point is will the LCD-200 work with a PCV fit 2008 and up and a QEM15 for a 2008 and up R6 as well, if the display is only for the PCV and says 2008 and up as well. Mounting options too. :0)
Thanks guys sorry for rambling on, but I figured you guys might enjoy the nycvr6/Shanet/wired By G collaboration on a turbo 599cc road race bike running very mild boost. Idea is to have a liter bike killer in the straights, and a monster in the curves. Should be fun. Here's the bikes:
2006 CBR600RR decent price, from about an hour and change away.
Day she came home:
Modding almost complete:
Newer 2006 R6 with 2011 plastics 5600 miles cheap pickup locally:
Day I brought her home:
New carrozzeria Tri-R's, same wheels on the cbr but polished instead of golf. Great light forged wheel for the money. Top notch customer service!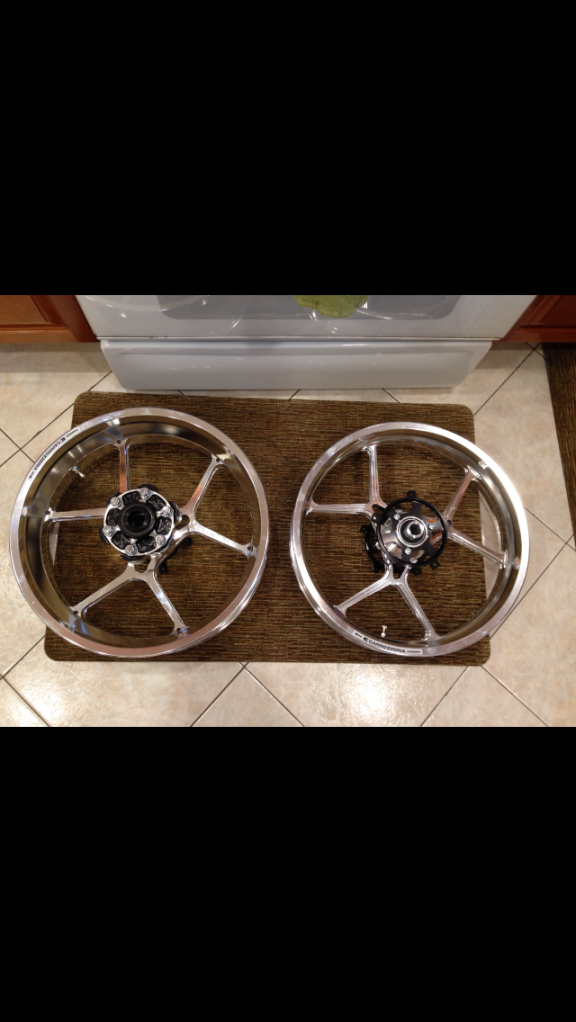 Sent from
Motorcycle.com Free App
Trainee Grease Monkey
Join Date: May 2013
Posts: 29
Continuation to fit pics:
They will be wrapped in Pirelli diablo supercorsa's this week and a small peak at the adjustable sato rearsets, same on the Honda.
This full titanium graves works exhaust with titanium can as well will be here this week.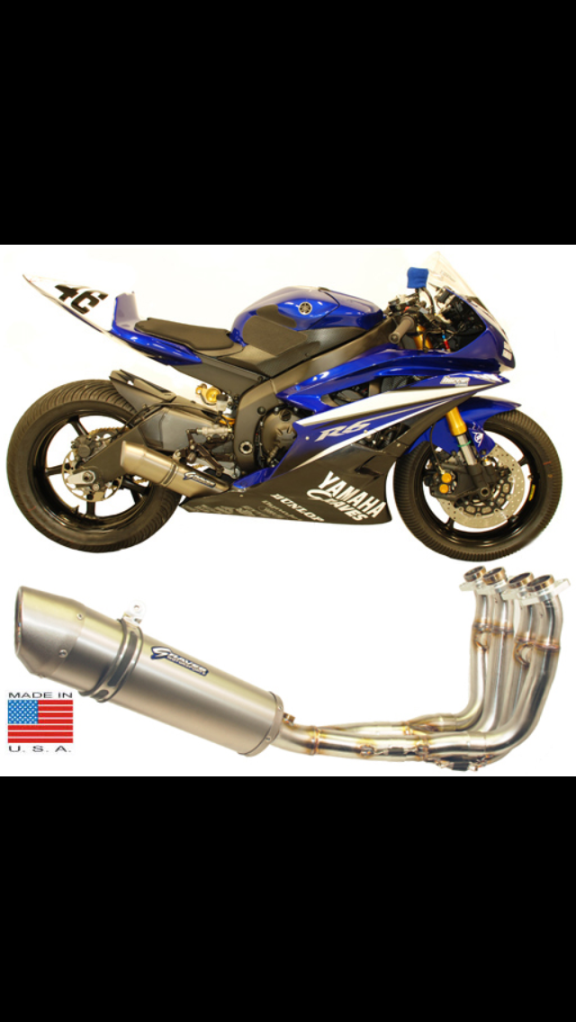 Both bikes are getting new chains (EK 3D), new rear sprockets (+2), new front sprockets (-1), both got the ecumleashed flash , and will be getting custom tuned by frank at powerhouse on Long Island. One great knowledgeable guy without a doubt. Full mapping from 1000-redline in every gear on top of the flash. Very reasonably priced as well and easy to talk to.
Also CZ wheels, Pirelli diablo rossi corda's on the 600rr. and Pirelli diablo supercorsa's on the R6, rearsets, some cf, dynojet goodies, a whole bunch of make them new goodies.
Once the cbr probably is. Turbo and MoTeC'd, Shane will take over the tuning because the man is nothing short of genius in making a car run how it's meant to run for what it's designed to do. Glad to have frank and Shane on my side. Fwiw, I didn't buy a ~$7500++ MoTeC ecu for this budget build, I actually own two from my frag racing days, so ill use one in the bike with a jumper loom to the factory harness custom made by none other than Greg Pyles of wired by g. A god of MoTeC wiring. Years as MoTeC's head wired. I trust these men with my electronics more than anyone else in the world I can think of. Google Shane t or tuned by Shane t to see his tuning accomplishments. Just thought I'd share and get some info on the LCD-200 on my 06 R6.
Here's a dyno of my Audi just for views. Made 917whp on this hit blowing off the brand new Hoosier drag radials off the dyno and destroying them. Our estimate. ~1000whp give or take looking at dyno wheel speed at 360psi and good old corn fuel, e98! Enjoy!
http://youtu.be/fAVOSbr4ujg
Sent from
Motorcycle.com Free App
Posting Rules

You may not post new threads

You may not post replies

You may not post attachments

You may not edit your posts

---

HTML code is Off

---